Shenzhou 11 blasted off for 'Tian Gong' , Sugon helps China's space dream come true!

2016-10-17
At night of Mid-Autumn festival, in the northwestern gobi, China's first space laboratory with 10.4 meters in length and 3.35 meters in width, known as "Tian Gong II" was launched from Jiuquan launch center to the sky. "Tian Gong II" is equipped with the cutting- edge technology in earth observation, space and earth science, aerospace medicine application and test, including the release of small satellites and cargo spacecraft docking, etc. The success of launch means China's space science and technology standing on the new step, with witness from the whole world.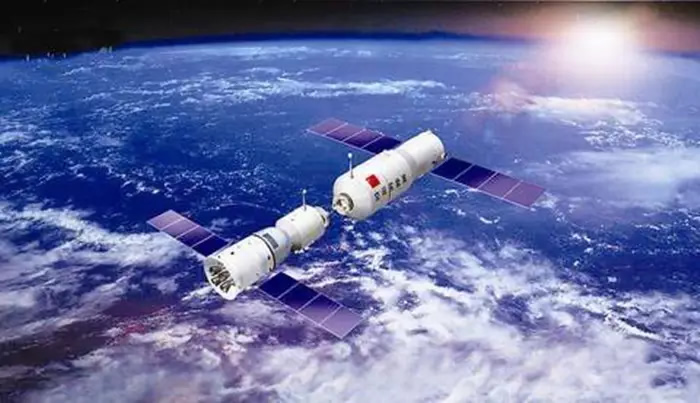 At 7:49 on October 17, 2016, Shenzhou 11 launched at Jiuquan Center into orbit accurately, which brings 2 astronauts and will execute the docking mission with "Tian Gong II". President Xi Jinping sent his congratulation at first time. Shenzhou 11 will conduct automatic rendezvous and docking with "Tian Gong II" forming into a complex. Astronauts in "Tian Gong II" will enter into the complex and fly on the orbit for 30 days. This will be Chinese longest record for manned flight, mid astronauts reside, which is a comprehensive exam on the support capability of astronauts live, work and health, as well as astronaut's ability to perform a flight mission, laying the foundation for China's space station development.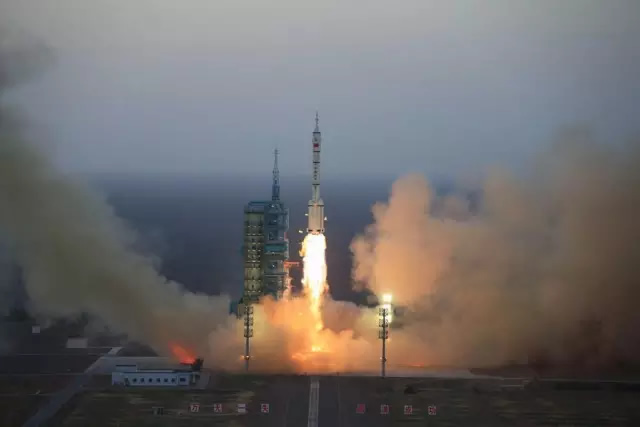 As the service center for Tian Gong II and Shenzhou 11's tasks, Beijing Astronautics Flight Control Center (BAFCC) once again focused attention around the world. BAFCC is the center for China's manned space engineering command, flight control, analysis and calculation, data processing and information exchange, also the flight control center of Chinese Lunar Exploration Project and satellite launch. Over the years, from Shenzhou 1 to Shenzhou 10 manned space missions, and Chang E 1 to 3 then high-speed return missions to the moon, BAFCC has made prominent contribution for the development of China's space sector.
In Shenzhou 11 task, BAFCC has completed flight control scheme, hardware and software update, linkage between measurement and control system and adjustment, the linkage system with Tian Gong II as well as the subsequent orbit and docking. BAFCC is the only link between heaven and earth connection, all instructions sent from here, all data gathered here, all control implemented here. Thus BAFCC is the "nerve center" of China's manned space and aero explorations.
Such important "nerve centre" has strict demand on its IT system, especially on the support capability of data storage system. As loyal guardian of China's aerospace industry, Sugon has completed the computing work for BAFCC with DS800 + DS600 storage backup solution, based on the in-depth understanding of user requirements and research assessment.
Sugon's DS800 equips core database and file storage system services, through high-speed SAN network meet the demand of online system; DS600 storage backup system prevents wrong operation or virus invasion and other logic errors caused by the loss of data. The system ensures the high reliability as well the efficient data storage and processing.
★Data capacity: a single set of storage system can support PB- level disk extension, with compact disk extension solution satisfying user's requirement on data capacity and reducing the space, energy consumption and heat dissipation.
★Processing capacity: DS800 adopts the special-purpose chip plus hardware XOR check, which can develop full performance of the hardware. DS800 whole flash memory products is designed for flash memory medium, which can optimize speaking, reading and writing of the disk and can provide more than 500000 random I/o processing floating points, reducing response time to millisecond.
★Reliability: DS800 is equipped with RAID 2.0, an advanced technology breaking the limitation of traditional RAID, greatly shortening the interval of disk failure reconstruction with higher hardware quality and fault handling mechanism. The system can achieve 99.999% of reliability, ensuring sustainable and stable operation.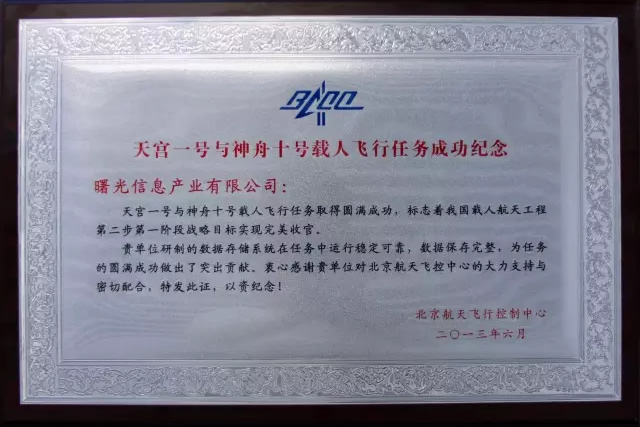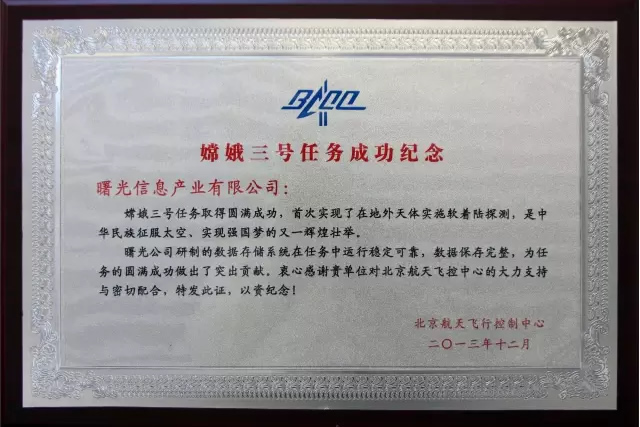 Relying on
excellent storage capacity and high reliability of data protection, Sugon has earned recognition and affirmation from BAFCC. Since the first product delivered in 2011, Sugon has always been providing users with stable and reliable service, and has assisted the launch of Tian Gong I, Chang E 3, Shenzhou 10, making prominent contribution for China's space industry. In the future, Sugon will continue to support the development of China's space industry through its professional technology and service capability.