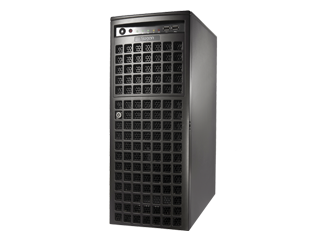 W580I-G10

Enterprise dual-route high-end remote GPU graphics workstation server
The product has high-end configurations, in a single system, 4 industrial mainstream GPU cards may be supported, meanwhile, 10GB Ethernet or 56Gb Infiniband high-speed internet may be supported, as well as the remote 3D design cloud.
Major business applications: suitable for CAD, simulation, animation, CG render, GPU computing and other work, the product focuses on film, design, animation, architecture, machinery, petroleum and other high-end graphic processing industrial users, help large enterprises, companies and institutions to realize remote 3D design.
Core strengths

High performance
The product adopts Intel C602 high-performance chip groups to provide powerful system IO bandwidth. 2 Intel E5-2600 series of processors may be supported to the most, QPI gross wire-speed is up to 8GT/s, 16 DDR3 memory slots, DDR3 1600 MHz is supported, integrated double gigabit network cards, optional fiber or IB high-speed internet card.
High expandability
4 PCI-E 3.0x 16 slots are provided, 4 full-length, full-heigh, double-width professional graphical cards may be supported at the same time, as well as the GPU acceleration card(nVidia Tesla K10/K20).(nVidia Tesla K10/K20)
High computing density
A single node is able to provide a single-precision computing capacity up to 18.308T, 4.68 double-precision computing capacity, so that to meet different computing demands.
Processor

Max support 2 processors of Intel E5-2600 series

Chipset

Intel C602

Memory feature

Supports DDR3 SDRAM 1600 REG memory, compatible with 1333/1066 MHz ECC DDR3 SDRAM

Memory (work frequency of memory can be varied based on CPU and memory number in each passageway)

Being able to support single piece memory chip of 32GB, 16GB, 8GB, 4GB, 2GB, 1GB

16×memory slots

Holding capacity can support 512GB Registered ECC memory in max, or the memory 192 GB DDR3 ECC Un-Buffered memory

(The max internal memory volume can be varied based on different type of memory, and also varied based on different memory of single chip)

Hard disc

8×hot-plug hard disc, being able to support 3.5 inch SAS/SATA hard disc

Onboard SATA controller, offer 4 ports for SATA 2.0 and 6 ports for SATA 3.0

SATA 3.0 support SATA RAID 0,1,5,10

SATA 2.0 support SATA RAID 0,1

SAS HBA、SAS RAID card is optional