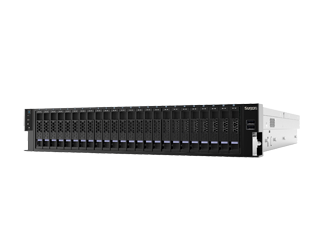 I620-G15

Extremely expansion providing powerful performance

High-end dual-route rack-mounted server especially developed for large data centers.
Major applications: virtualization, medium databases, enterprise information, HPC, online games, WEB search, files service, VOD, Mali, etc.
Target customer: suitable for communications, internet, finance, large enterprises and other industries
Core strengths

High reliability guaranteed by multiple technologies
The product has senior memory default tolerant function, supports multi-card redundancy, in case of any problem with one of the cards, work load may be automatically transferred and switched; chassis temperature detection function, so that to monitor the real-time internal temperature of the chassis and the system fans working situations.
Powerful storage expansion capabilities
The product supports 8 3.5inch hard disks or 16 2.5inch hard disks, additionally, another 2 hot-swap hard disks may be configurated to create possibilities for mass storage.
Advanced process design
The product has independent PCI expansion design and may support full-height expansion card; fans, air guiding cover and other components all have modular design and have free-tools hot swaps, rapid replacement may be achieved.
High manageability
Optional intelligent hardware monitoring system which provides information display against the working states within the system, supports intelligent fans speed regulation function and thus to effectively reduce the system noise and power consumption.
Easy-for-maintenance
The product integrates the iKVM function and is able to perform remote control and maintenance on the server, the product has multi-faults indication function, user's downtime risk may be effectively reduced.
Processor

Supports Intel Xeon E5-2600/E5-2600v2 series of multi-core processors, high-speed QPI interconnected bus (8.0/7.2/6.4 GT/s, varies to CPU model)

Large-capacity cache of level III(10/15/20MB, varies to CPU model)

Chipset

Intel C602

Memory

Supports DDR3 1866/1600/1333/1066 ECC memory (operating frequency varies to different memory configurations)

Hard disk

Integration 8×SAS hard disk and RAID 0, 1 and 10 is supported

8-port SAS RAID card is optional, RAID 0/1/5/6 is supported

Supports 8×hot-swappable 3.5" or 16×2.5" SAS/SATA hard disks to the most

Supports 2×SSD hard disks