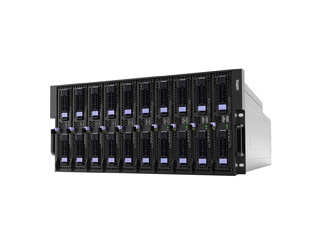 TC4600
Noncomparable blade server
Computing-intensive 5U 14 blade server
Major applications: focus on applications in large databases, suitable for high-performance computing and applications
Target customers: meet the demands of educations, scientific research, cloud computing, government and other critical users.
Core strengths

High density
The 5U14 blade system realized the high-density product state to place 2.8 computing blades in a 1U space.
High performance
The product supports Intel Xeon E5-2600 series of platforms, it adopts Intel QPI high-speed interconnected channel structure, the system performance is significantly improved.
High efficiency
The bandwidth of the supported FDR 56Gb/s InfiniBand single-port network of PCIe 3.0 is up to 12Gb/s, this is two times of QDR Infiniband, the time delay is only 100ns.
Heterogeneous computing
CPU+GPU heterogeneous computing, the blade system supports the best ratio of CPU:GPU=1:1
Simple deployment
The management interface is seamlessly connected with Sugon cluster software Gridview, thus rapid business deployment and business upgrading may be achieved, as well as centralized monitoring and management.
TC4600

5U

blade

Supports 14×blade, intel Xeon Romley-EP blade is optional;

Facade(Length * Width * Depth)

218mm×446mm× 792.1mm;

weight

50Kg(without blade);