Kunming sub-center of suptercomputing of Chinese Academy of Sciences, is built up and organized together by Kunming Institute of Botany and Kunming Institute of Zoology of Chinese Academy of Sciences. In accordance with the overall deployment and arragenments of the "11th Five-Year" informazation planning, combined with the protection measures and continuous utilization and research for strategic biological resources carried out by the State. The construction shall be carried out centering on the core works such as genomics, germplasm resources, new drug creation and production, primate neural electrophysiology, brain function imitation and life bar code, implemented by the state significant scientific project 'Southwest China Wildlife Genetic Resources Center and national key labratories.
Now the project has built up a universal high-performance computer system with peak value of 10.944Tlops common. It adopts Sugon 5000A series product, with1024 calculation cores. The entire cluster system is connected through Infiniband high-speed network, including 60 computing blade nodes, 4 sets of IO nodes, 2 sets of management nodes, 4 sets of thick nodes with large memory and 12 sets of application servers as well as 100TB disk array storage system.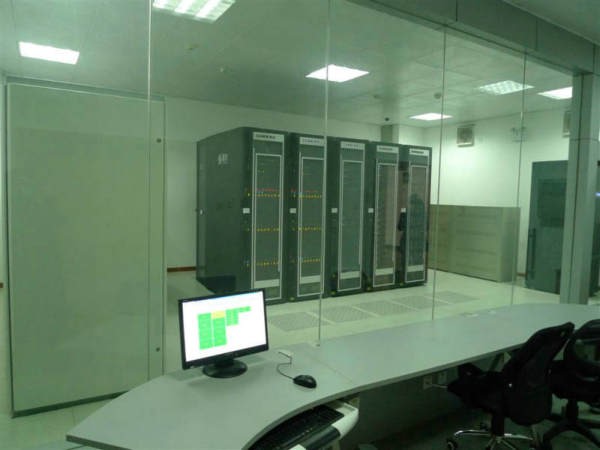 Kunming supercomputing sub-center has been running stably since providing service formally in January, 2010. It joins the Supercomputer Grid environment of Chinese Academy of Sciences and provides super computing service to the users inside and outside of CAS. Main applications involve in the fields such as genomics, bioinformatics, quantum chemistry, astronomy and so on, which leads sequencing and functional gene excavation work of Yunnan strategic biological resources and effectively support the whole-genome sequencing of wild rice, DNA barcode construction plans as well as the research work of new drugs discovery.