In November 2011, Sugon equipped a thousand trillion computer "Nebulae" at Shenzhen Super (Cloud) Computing Center to serve the fields of high-performance computing, government public information services, animation rendering, large-scale internet data processing and virtual infrastructure service, etc. (there are totally 5000 computing nods, including 2500 for high-performance computing and 2500 for cloud computing).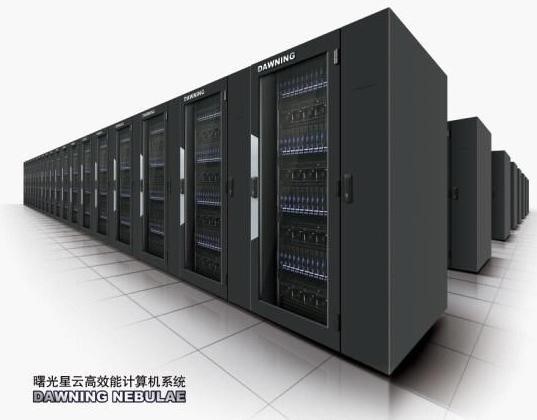 The total investment of the National Super Computing Center (Shenzhen Cloud Computing Center) is 1.23 billion, Phase I covers an area of 12000 square meters and the total construction area is up to 43000 square meters. The host system was developed by the Computing Technology Research Institute of Chinese Academy of Sciences and was manufactured by Sugon Information Industry (Beijing) Co., Ltd. In May 2010, through on-site measurement, the World Super Computer Organization confirmed that the computing speed of this center was up to 1271 trillion times per second, it ranked the second in the world. This project is an important project circled by the National 863 Program, Guangdong Province and Shenzhen City.
The National Super Computing Center (Shenzhen Cloud Computing Center) is an enterprise management companied under Shenzhen Municipal Science and Industry, Trade and Information Technology Commission, it is consisted of the System Operation Department, Research and Development Department, Technical Cooperation Department and the Administration Management Department, over 90% of the professional technical and management employees own master or doctoral degrees, most of them have experience of studying abroad, it is expected that a technical innovation platform with hundreds of high-end talents will be constructed in 2012.
The National Super Computing Center (Shenzhen Cloud Computing Center) is footed in Shenzhen, provide services for the whole country, South China, Hong Kong, Macao, Taiwan and Southeast Asian areas, it is able to undertake various large-scale scientific computing and engineering computing missions, meanwhile, with its powerful data processing and storage capability, it may provide cloud computing services for the whole community, an international high-performance computing research development center and cloud computing service center with complete functions, rich platforms and high efficiency will be successfully set up.