Program Requirements Overview
Ancheng Insurance takes "Safety, Honesty, Care and Harmony" as their core value, takes "Building the risk warning system and providing the professional safety insurance" as their mission, and takes "Professional operation, Differentiated service, Centralized management, Stable development" as their operation concept. Ancheng Insurance is committed to becoming the professional risk management expert with advanced technology and providing the most suitable and best-quality insurance products and services.
With the rapid development of cloud computing technology, Ancheng Insurance takes the concept of "Quick transaction, Information support, Differentiated service" and the designing concept of "Information resources integration and share" to construct a new type of insurance data center, thus to provide highly effective information service for the customers and its own offices.
Construction Plan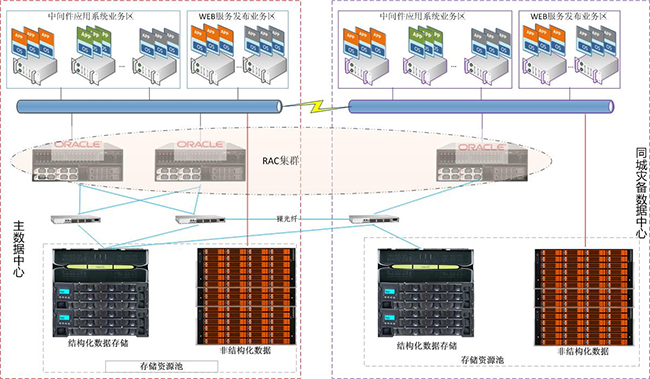 Ancheng Insurance cloud computing system includes mainly two data centers, i.e., the main data center and the city disaster recovery date center. The off-site disaster recovery center is used mainly for accomplishing data backup through leasing the mature IDC or the storage room of the data center. The main date center is used for accomplishing the application-level disaster recovery through active-active mode.
According to the construction requirements of Ancheng Insurance Data Center, the construction includes the data base, computing resource pool, storage resource pool, cloud resource management platform, cloud safety and the three data recovery centers of two places etc.
Analyzing from the overall perspective, the initial program basically covers all aspects of the cloud computing center construction, realizing the IAAS-level service output of the cloud computing center. Following the business growth of Ancheng Insurance, the business system and service amount loaded by the cloud computing center will increase too, so Ancheng Insurance cloud computing center will be progressively expanded and updated. Considering the safety matter, the later program construction will progressively realize the centralized management and maintenance of the data and spread the desktop cloud construction.