Project background
Tongji university a a key university directly under the Ministry of Education. The university was founded in 1907, its former was a German-speaking Doctor School founded by doctors from German, Tongji means, in Chinese, cooperation and mutual help. Presently, Tongji University is the only comprehensive university in China owning 9 disciplines, including science and technology, literature, engineering, medicine, legal, philosophy, economy, management and education. As a study-based university, it is one of the colleges and universities which were earliest approved by the State Council to establish graduate schools; as a national key university, Tongji was enlisted in the "211 project" funded by the national finance and a key high-level university jointly built by the national education revitalization action plan and the local government. Tongji University big data flexible processing platform was built by the Telecommunications Institute, this platform will cover 3 service partitions and one sharing storage center, i.e. Network information service, traffic information analysis, medical data analysis and storage center. The flexible processing platform built by Tongji University will help Tongni University to step into a new stage in the information science and other interdisciplinary research areas.
Solutions introduction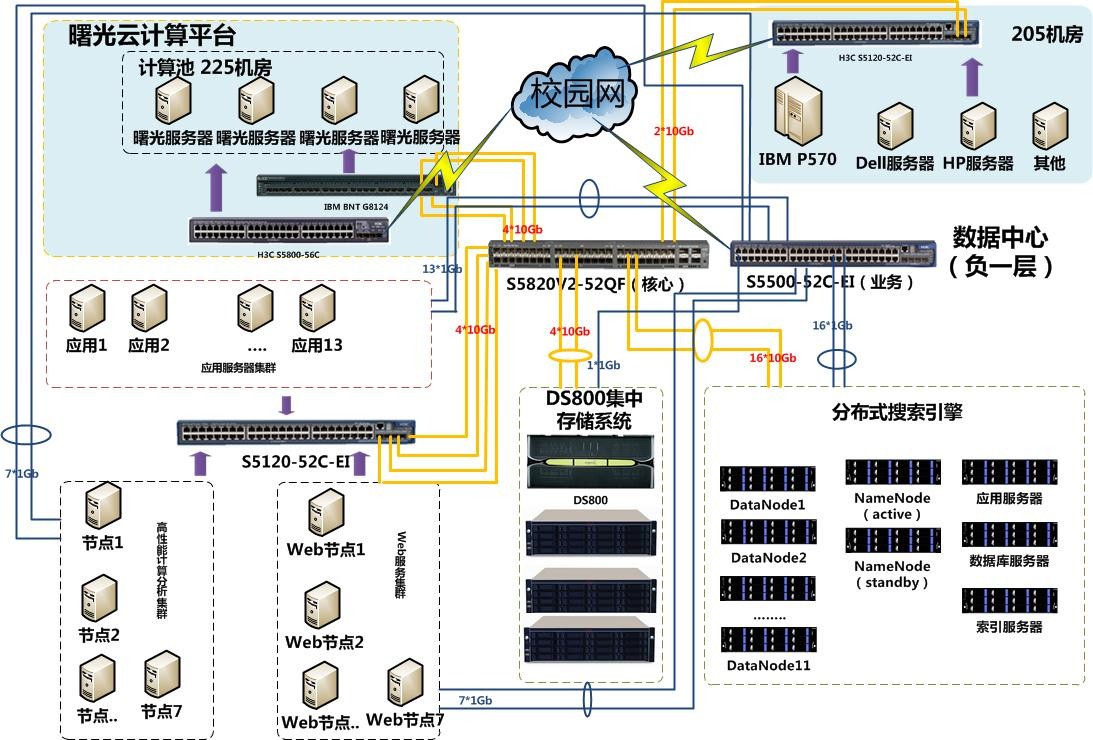 This solution is built by partitions, it effectively integrates the cloud computing platform and the existing assets (IBM, DELL, HP servers) of Tongji University, the centralized storage system is built by applications of Sugon DS800-F20 which is both stable and efficient, other analysis nodes and service nodes all adopt Sugon high-performance servers. Management of servers are based on the large scale cluster management system Gridview which has been repeatedly tested in various cloud computing projects.
Project summary
Fully integrate the existing resources, including the cloud platform, the existing servers, so that to reduce the user's costs

In aspect of the architecture of the entire distributed search engin, this solution adopted the partition mode to fully uncouple various components in the system, enable the upper software deployment to be more flexible, facilitate the scientific research users to implement various types of system adjustments and deployments.

Adopting different partition management according to different components, each partition is equipped with physical machine and virtual machine resources, stress on optimized configurations of resources to obtain extremely high cost efficiency.

Separated data network and business network, thus to avoid interactions between data communications and business communications.

Smaller management network communication load, the management operations depend on the data network, thus to realize unified management on the entire network, meanwhile, the management network does not need to be equipped with any other switch, thus the user costs are reduced.

The network in this solution focuses on data, it was built around the Hadoop analysis cluster and centralized storage system, so that to eliminate resource islands, different points are interconnected according to their business strength, meanwhile, its expandability may be expanded according to the growth of data, thus a really flexible computing platform may be built.