Lead the trend of the times and promote educational reform




Sugon helps ShanghaiTech University build intelligent education informatization
Recently, Dawning Information Industries Co., ltd strong bid for Shanghai University of science and technology-intelligent information systems construction (Cloud Computing Center) project t, bid amount of more than 10 million, sugon as the main planning of the project and the implementation of Party construction, to help users covering cloud computing platform, cloud desktop, cloud storage, cloud mobile office and high performance computing cluster system in business in the project, after the completion of the project to provide the 500+ virtual host, 1000 concurrent users, cloud desktop 3.8 PB+ cloud storage space, 15000 cloud disk accounts and 26 trillion and 800 billion times of high performance computing delivery capability. The overall plan of the project is as follows: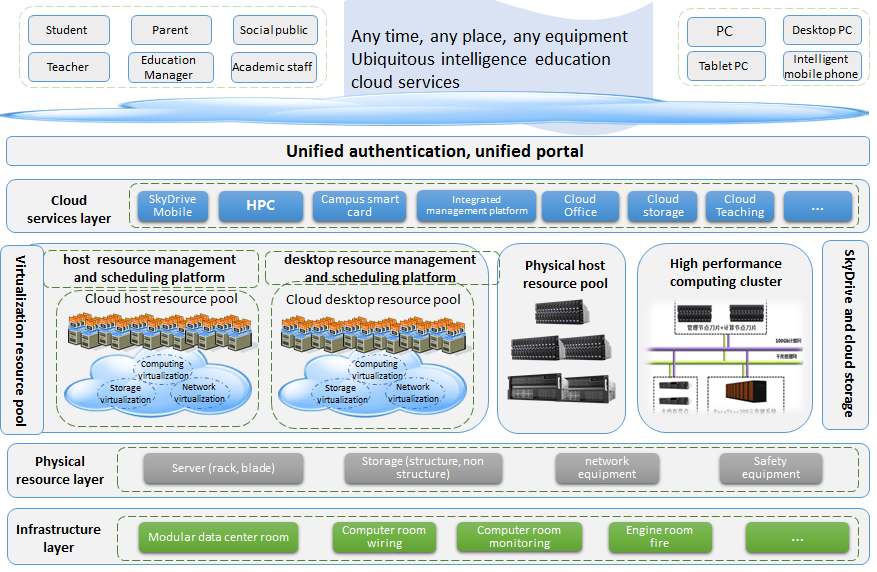 ShanghaiTech University Cloud data center framework

ShanghaiTech University is a by the Shanghai Municipal People's government and the Chinese Academy of Sciences jointly organized and common construction, by the Shanghai Municipal People's Government in charge of full-time colleges and universities, in September 2013 30 approved by the Ministry of Education formally established. The school is committed to serve the national economic and social development strategy, cultivate innovation talents of science and technology, science and technology to provide solutions and play the role of think tanks, and actively join in the reform of higher education, the school less than a year, has been mentioned in the 2015 China university network compiled by Ai Ruishen Chinese alumni "professional evaluation report" in the best professional university the rankings ranked 14, more than a lot of the old school, in addition, ShanghaiTech University. It is also the core support unit of Zhangjiang comprehensive national science center, which plays an important role in promoting Shanghai's economic development.
The project expected to reduce total cost of ownership (TCO) of the data center by up to 20 percent:The cost estimates (with 1000 terminal)


Comparison of procurement costs, operating costs, maintenance costs, equipment life, other costs, total costs


Traditional computer classroom = purchasing unit * purchasing quantity = price * (equipment quantity *, equipment power consumption, *8 hours / day, *200 days / year), maintenance number * annual salary


=4500 yuan / Taiwan * 1000 units =450000 yuan (1000 sets of *0.25KW/H/, *8*200 days / year)
=400000 yuan, 10 people *80000/ / year, =800000 5 years, basically equal to 5700000 yuan
New cloud computing classroom

SDDC based construction = server purchasing unit price * quantity + cloud terminal purchasing unit price + quantity + software cost = price * (server power * quantity + cloud terminal power consumption * quantity) *8 hours / day, *200 days / year maintenance number * annual salary
=95000 yuan / Taiwan *18+1450 yuan / Taiwan, *1000 yuan, =4250000 yuan 1* (1KW/h/ Taiwan, +0.08KW/h/ Taiwan, *1000 Taiwan) *8 hours / day, *200 days / year 112000 yuan, 2 people *80000/ / year, =160000 yuan, 7 years, basically equivalent to 4522000 yuan, yuan, *20


New cloud classrooms save: (traditional classroom - cloud classroom) / traditional classroom = 20.67%+

OLTP is a measure of database performance. The database is compared with the traditional physical machine deployment database through the cloud platform, the project anticipated to increase online transactional processing (OLTP) speeds by 50 percent.


VMware supports two kinds of storage architecture, the hybrid architecture, SSD as the buffer layer, and HDD layer. As a capacity of second vSAN supports, full flash architecture, each server is used to write cache SSD, but also for reading and storage capacity of SSD data persistence layer, the user using a single node to support high flash more than 90 thousand.


According to the ShanghaiTech University of intelligent information system construction project, the dawn of solutions and products based on user team status and needs, make full use of cloud computing, high performance computing, parallel storage and other advanced and mature technology, after several rounds of communication and optimization of the final dawn talent shows itself from many manufacturers including inspur, HUAWEI, DELL, in, highly recognized by users. The overall plan from the school to meet the demands of students and scientific research center, promoting information technology and teaching resources, research resources, cooperation resources depth of integration, the establishment of the college system (tutor) mode of education, to build personalized, object oriented information learning environment, to construct the ecological chain service platform, personnel training and education the innovation and development of the support system of governance, and promote the realization of rational allocation of resources through continuous optimization, to achieve the traditional IT of modern information technology to the intensive mode of IT innovation.


I believe the near future, the Chinese Academy of Sciences in Shanghai and to build adequate funding, heavy and favorable policies to support the wisdom of the dawn, ShanghaiTech University will show its unusual side and rapid development, we will witness a new type of University's strong rise.


At the same time, accompanied by the ShanghaiTech University as the representative of a large number of users of the dawn of education development, the dawn will continue through products and innovative solutions, to provide strong technical support and reliable service to promote the rapid development of education informatization, the same industry informatization times, with practical action to practice the "independent innovation, service China" brand concept.