Project background
As the public infrastructure of a well-known university in Jiangxi Province, the library of Jiangxi Normal University was initially established in1940, after that, the library has been renamed repeatedly with the development of the university. The university has been successively named as National Chung Cheng University, National Nan Chang University, Jiangxi Normal College, Jiangxi Normal University, the library name was renamed correspondingly, in 1983, the library was renamed as Library of Jiangxi Normal University. In October 1993, the dignified and elegant new library with novel design was put into use. The new library covers and area of 10300 square meters, meanwhile, it is adjacent to the old library, thus the total construction area is up to 12800 square meters. The entire library is arranged with 16 large and medium reading rooms, 6 small reading rooms, totally with a reading seats of 1100, this is an ideal place for reading and study. The library in Yaohu Campus built in 2005 covers an area of 39661 square meters with a reading seats of 4000.
To build the library as the literature information center of Jiangxi Normal University and a modern professional library, further promote the information technology construction in the education industry, to equipe the new computer room of the library with a set of high-efficient and professional information system is an an imperative trend.
Solution introduction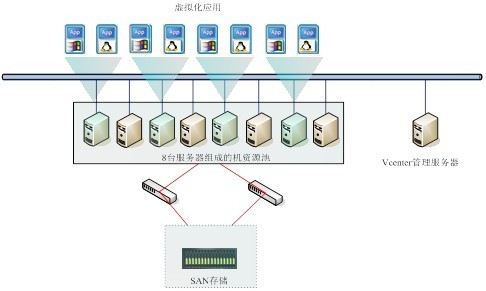 As a mature storage technology, SAN has relatively high security and certain expandability, thus it excellently solved the storage problem of big data streams, it was popular a few years ago in library builders. In the construction of the library of Jiangxi Normal University, Sugon recommended a set of overall solution which integrated the traditional SAN storage network and the virtualization technology, the structure of the solution is as shown above.
In this solution, a sets of Sugon high-performance DS800-F20 disk array was adopted to realized the storage of digital library data and reliable support for operation environments of virtual machines. The server and storage are connected and communicate through the redundant 8Gb fiber link, thus the availability of the system was improved, the application environment will never occur downtime due to single point of default on data links.
PROJECT SUMMARY
Building the new storage platform for the digital library of Jiangxi Normal University provided large-capacity, high-performance, safe and stable storage space for the following more business systems, it improved the data preservation mechanism of the digital library, centralized management and backup were achieved for dispersed data, thus it laid a firm foundation for the diaster recovery of these servers and applications. Meanwhile, through the effective combination between the unique functions of the virtual machine and the network storage, the availability, flexibility and mobility of these applications were all improved.