Project overview
Ocean University of China is characterized by its marine and aquatic disciplines, it is a key comprehensive university directly under the Ministry of Department, the university has relatively complete disciplines arrangement, including science and technology, engineering, agriculture, medicine, economics, management, literature, legal, history, etc, Ocean University of China is one of the key colleges and universities of national "985 project" and "211 project".
The high-performance computer system of Ocean University of China is computing platform built for all disciplines within the university, it mainly deals with the applications in the fields of fluids, marine, meteorological development and other relevant areas, many types of software are applied, different software also has different application characteristics, thus the demands for computing resources and storage resources are quite different, meanwhile, massive computing has relatively large storage demands, to ensure the high performance and high reliability of the system, storage system with high aggregation bandwidth and high throughput shall be applied, so that to meet the growing teaching and scientific study demands, provide powerful support for smoothly complete the scientific research tasks of various disciplines. Meanwhile, the storage system shall has excellent expandability to prepare for future system capacity expansion and upgrading.
Solution introduction
Based on the user's application demands, Sugon built a set of high-performance, large-capacity, simple-management and easy-use storage system for the entire high-performance computing system to meet the concurrent access demands of massive nodes data.
The system adopted the industrial advanced ParaStor parallel storage system which is based on the 40GB Infiniband high-speed network, a large quantity of nodes, I/O nodes, management servers, disk arrays, etc in the entire system were connected to achieve better I/O aggregation bandwidth.
The system architecture is as shown below: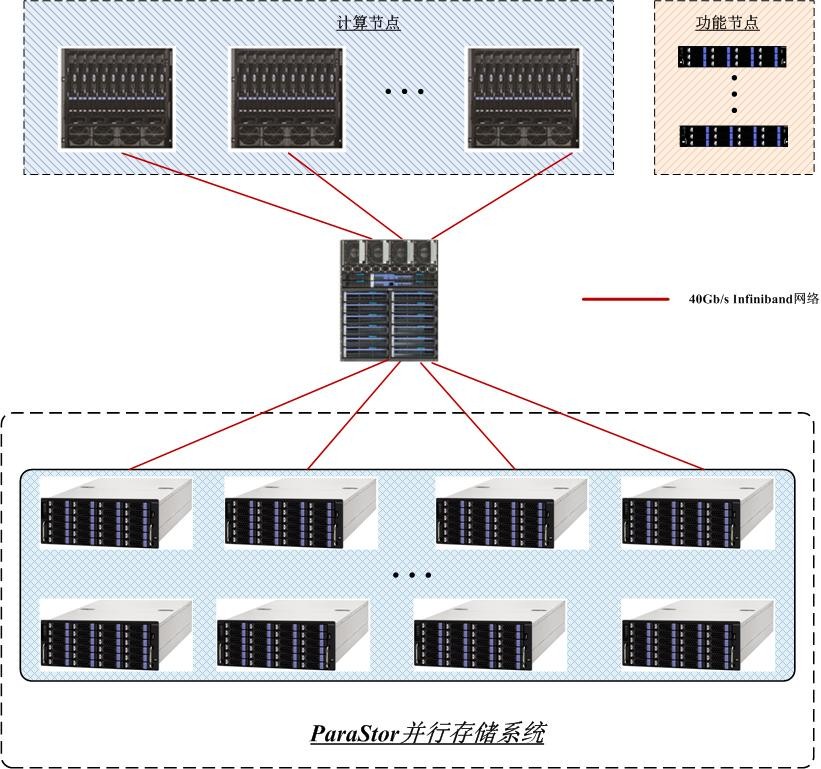 This solution has the following characteristics:
Sharable single file system architecture, all data is uniformly stored and managed in the single storage pool and data area, supports massive data unified management.

Parallel data I/O reading and writing, supports a large number of customer servers with stable performance, meanwhile, provides high-performance continuous I/O aggregation bandwidth.

Fully redundant design, data multiple-copy technology to ensure the high reliability of the system

The system is able to improve the I/O performance and increase the storage capacity through dynamically adding storage servers, while user's operations and application programs need not to be interrupted.

Modular design helps the enterprise to implement better control on construction and maintenance costs, lower total costs of ownership.

Sugon parallel storage management system with independent property rights, personalized unified GUI management and monitoring
Project summary
The successfully implementation of this solution fully proved that Sugon storage system is able to get adapt to various complex application environments in campus. The entire system, whether its capacity, performance, reliability or its rich software functions, manageability, operation simplicity, etc, has achieved the user's expected requirements. The modular design enables the storage system to have performance and capacity expansion abilities, thus to minimize the future investment costs.