Project background
To promote the fine operation of network data traffic, improve data operating efficiency, Sugon cooperated with Henan Mobile to construct the subsystem traffic business analysis engineering.The objective of the resource pool project of Henan Mobile is to construct an internal shared business support cloud, this project is designed to meet the future business computing demands, accelerate the traffic real-time billing and reminder according to competition situations and cluster demands, optimize the data traffic billing system, reduce the cost difference between package and other services, improve fine marketing ability, constantly improve the customers satisfaction degree and significantly reduce flow complaints.
First, this platform is used for financial analysis business, strive to improve data processing speed based on the platform, provide data support for business developments.
Secondly, use this platform to deal with monthly bills, replace the traditional Oracle database cluster, minicomputer and high-end FC disk array mode, it may temporarily guarantee to provide bills for users on each first day, yet the data volume will increase with an annual rate of 15%, based on the estimation of the user, the existing system will become unable to meet the rapid development needs after a year, therefore, a platform with stronger performance and higher expandability shall be built to replace the existing system.
Solution production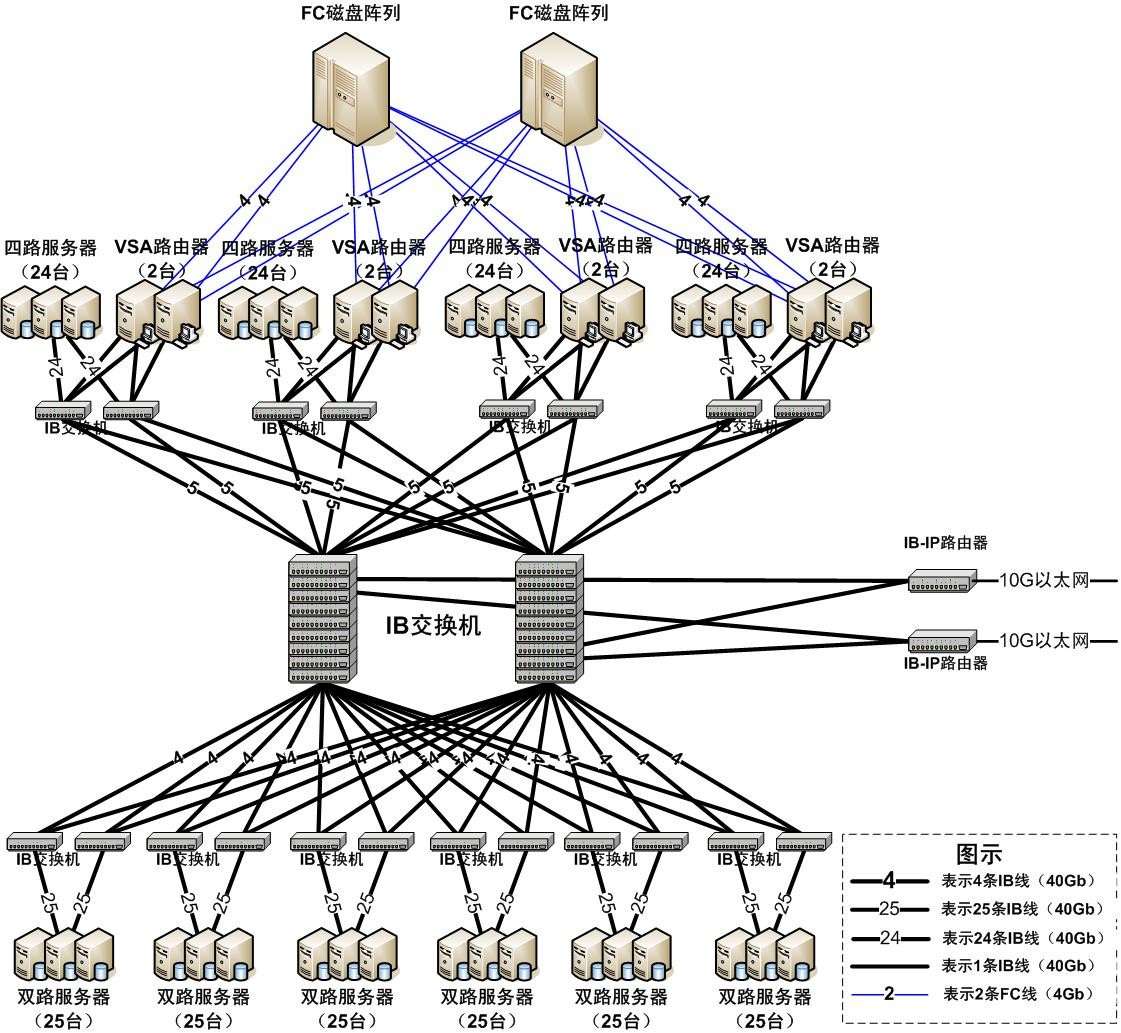 Based on years of accumulations and study in the field of distributed computing, Sugon proposed the IB network-based Hadoop distributed computing platform program.
This project adopts 150 A620R-G dual-way servers to build the Hadoop platform, 100 A840r-G 4-way servers were applied to build the database processing platform, the whole system is interconnected through Infiniband network, in the IB network design of the system platform, connections of all network equipments are designed with redundancy. Frist, each server is configured with two IB ports, the IB ports are respectively connected to different aggregation switches through redundant binding, additionally, all aggregation switches are connected as an unified subnetwork through the three sets of highly redundant two-layer switches, thus the system redundancy and the communications bandwidth limits between nodes are all improved to the largest extent. The bottoms of the 2 IB gateway devices are respectively connected with two sets of 2-layer switches, the upper layer is connected with a router, the two routers on the upper layer achieves redundant connection of IB gateways through the VRRP technology, thus it may be ensures that, in case of any default with any gateway or router device, the server on the bottom layer may be linked to the upper network.
Summary
By applying the above program, this system achieves the integration of Ethernet, Fibre channel and Infiniband, the high-speed communications demands of the Hadoop cluster and database processing platform are satisfied to the biggest extent.