Project background
Tax is an important source of state revenue, it plays an important regulation role for the health of the national economy and sustainable development. With the operation of the original business system and establishments of new systems, massive business data has been gradually accumulated in the tax administration departments and their branches. Business data of branches generally focus on recording the transaction themselves, meanwhile, it needs to be supported by a large quantity of external data, therefore, the user needs a technology to sort, integrate and sum up the data of the business system and then provide a means to extract information, this needs the support of the data warehouse technology, as well as multiple-dimensional analysis and data mining technology based on data warehouse.
The data warehouse system is developed on the basis of the traditional database against the increasingly grown massive information, its purpose is to support the high-efficient analysis decisions in operations and management. The data warehouse system is mainly characterized by:
Massive data: the data warehouse system requires massive data storage, data of large data warehouse systems is PB level, the storage system is required to provide at least a PB-level storage capacity.
Linear performance demands growth, the traditional storage system can not solve the pressure brought by increasing servers, performance growth demands caused by servers increasing need to be satisfied through the cluster storage technology.
Data backup demands: the product shall take into full account of the data backup demands, disaster recovery function based on disk array shall be applied to ensure the data reliability and performance of the entire support system.
Solutions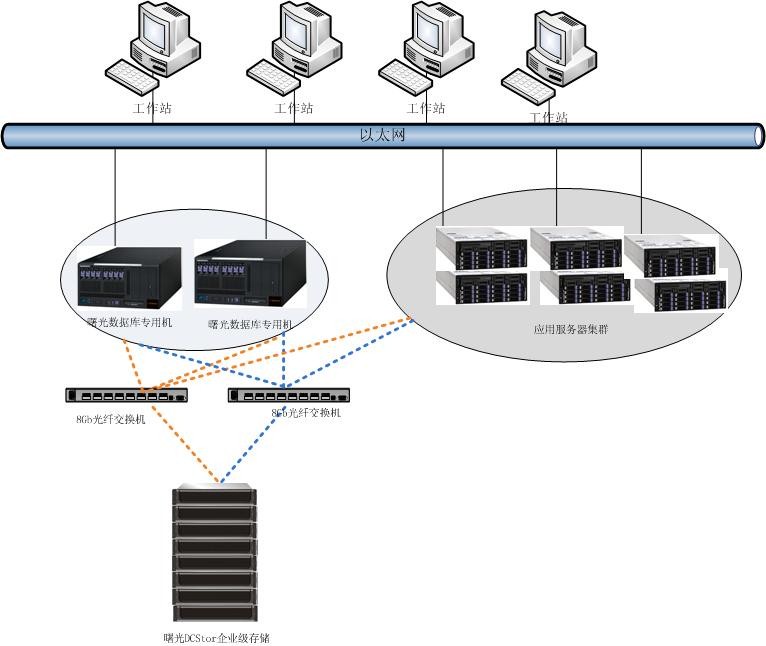 Project summary
Sugon DCStor private cloud storage system is a storage system integrating the private cloud storage software, it is particularly designed for storage virtualization and high-performance applications, its advanced storage virtualization function is able to meet the storage performance, expandability and reliability requirements of the user's critical business systems, this solution is able to optimize investment returns, provide powerful guarantee for the use and capacity expansion of storage devices, meanwhile, it greatly promotes the development of future business.