The southern base of China Mobile is an effective supplement for the China Mobile Research Institute, focusing on different professional and technical fields. They actively follow up the development trend of world's advanced communication techniques, focusing on the dynamic development of China's communication market. They develop and support new technologies, equipment and business with independent intellectual property rights, developing technical standards, business requirements and service standards with global competitiveness. They also make use of China Mobile's huge network and user resources to create an open service platform and flexible R&D cooperation mechanism. They corporate with information equipment provider and information service provider to establish ecological strategic mode of cooperation, promoting the Development of National Information Industry.
The southern base cooperates with the center in Beijing and establishes a national-wide all-in-one IT supporting platform to provide world's leading IT supporting capability for China Mobile. The southern IT supporting platform works as the recovery and backup center for the Beijing IT supporting platform. Under the condition of complementation of functions and hold a thorough process with Beijing center, it can complete the expansion effectively, integrate existing supporting system and set up new functional system to ensure the normal functioning of crucial business and applications. It also provides IT supporting abilities across the region and across borders together with Beijing center. During the construction of Southern base, the Sugon Company plays an important role in the construction process as the equipment provider and solving plan's provider. This project uses 100 Sugon A840r-G four-server servers and 500 A620r-G dual servers.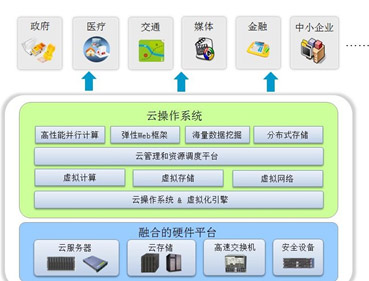 This project is the large-scale purchase of Sugon products by China mobile for the first time, and in the meantime, the large-scale equipment arrangement also proves the adaptability of Sugon products in the telecommunications industry. The uses of Sugon Gridview group monitor software by independent research and development to monitor and manage the entire platform make the system management tasks easier.