Solution for transformation from Business Tax into Value Added Tax of Tax system
The entire system is divided into three parts, data collection terminals, application servers, and database system.
1.1.1 Data collection terminal
The data collection terminal refers to the computer terminal or other terminal which is distributed in different areas and installed with taxing application softwares. The data collection terminals is responsible for the communication with application server, which will let application server input the taxing data into the background database system.
1.1.2 Application server
Application server is equipped with taxing application server-terminal system to receive the requests from data collection terminals and providing data to the database system. Application server also equipped with relevant middleware. The application server, with the X86 structure's server arrangement, can have two design ideas.
First, make use of the traditional arrangement pattern of physical server.
Second, make use of the arrangement pattern of virtual server.
1.1.3 Database system
Database system makes use of multiple X86 high-end database server to form the arrangement pattern of database group. According toctual amount of business of taxing units at different levels to determine the needed group joints of the arrangement, we recommend the arrangement of ORACLE RAC, which provides high speed internal communication network to make communication between group joints, fully realizing the advantage of cache's integration. The business network, internal communication network and storage network all use redundant structure to realize the high usability of database system.
The database system arranged by Oracle RAC has the following advantages.
- High performance, which means the realization of database system's improvement of performance at multiple joints, can realize the balancing of loading.

- High usability, meaning that part joints' damanage within the group will not lead to the failure of the entire database system.

- High expandability, meaning that even it will need to be upgraded in the future, it will only need to add joints within the group.
The overall scheme design is shown below.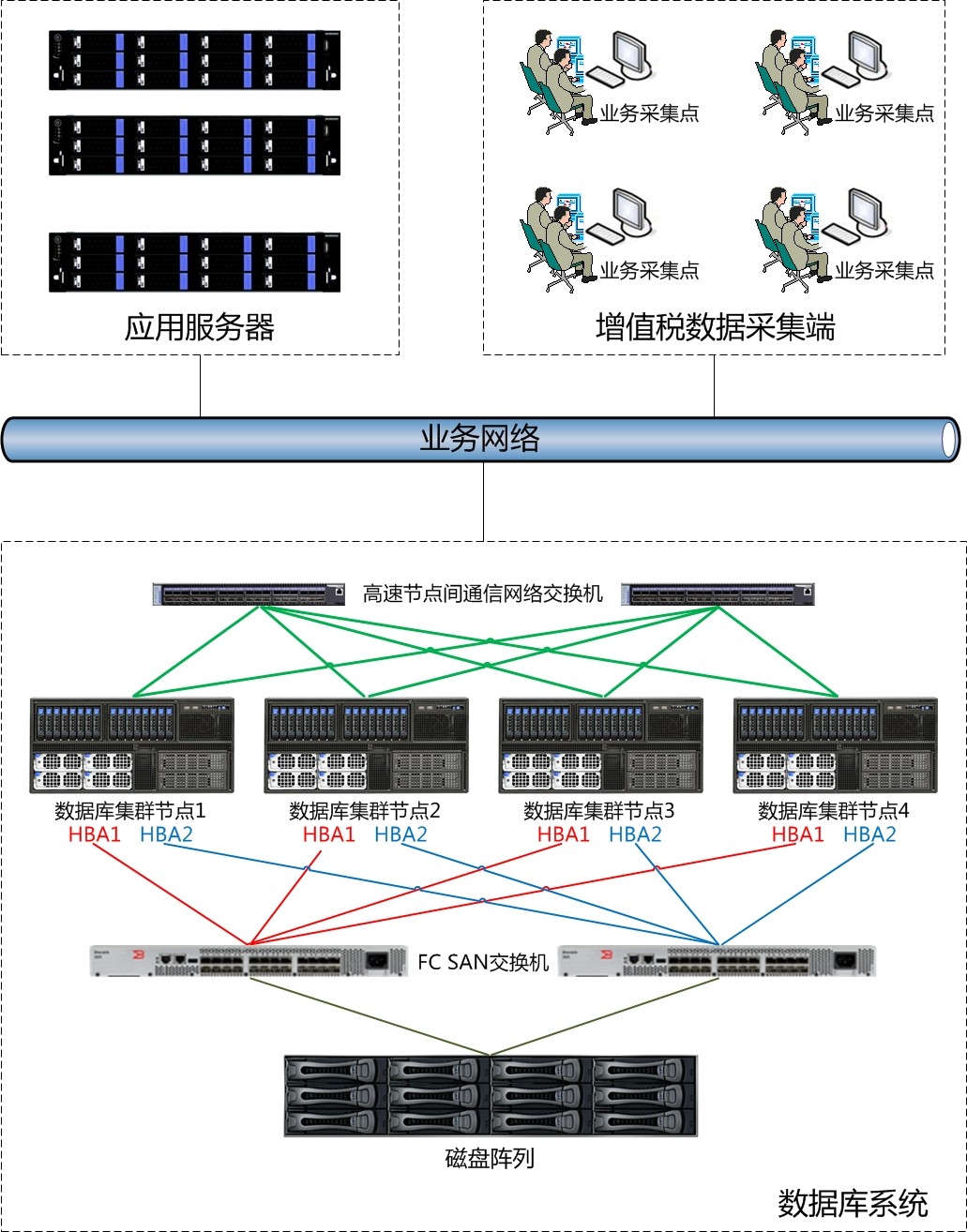 Figure: overall scheme design