Drawbacks in regional education:
Use efficiency of computer resources is too low; electronic teaching process is too complex and low efficient; as the growth of business, system management difficulty becomes complicated and difficult to processing; system development and construction are difficult, and some students, teachers and managers are not willing to participate; system construction is in chaos and regional development is unbalanced. These issues include laggard technology, traditional education system, management of education informatization construction and nonuniformed regional economics. In order to solve these problems faced by development and change the status of the mismatch, the municipal Education Commission has a long way to realize informatization construction, which not only needs to actively use new technologies such as virtualization and cloud computing, but also requires vigorous promotion and active guidance of education policy, so as to solve the reginonal problems in education informationization process through technical means and improve the overall development of education informationization, so as to adapt to the demand of development and change in economic and social informatization,and to not only keep ahead at home, but also to take a leading position in education informatization in the world.
Solutions of educaiton cloud:
From the Angle of the modules, education cloud computing center includes five modules inlcuding infrastructure, resource layer, delivery, safety and management; among them, the resource layer and management are the core module, and a variety of resources pooling techniques are used in education cloud computing center in the resource layer, to build a resource pool, whose formation is the basis for dynamics and flxibility of solutions to education cloud computing center; private cloud management system realizes the organic integration of the various modules for the whole scheme, and is the core of automation of computing center for digital campus cloud and the support system for resources service operation of cloud computing center; private cloud provides related Portal required by cloud computing platform for digital campus.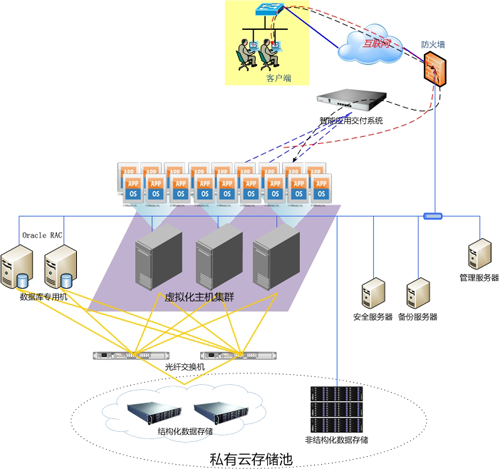 (1) Storage resource pool of private cloud
This part contains two types of storage: structured data (block device) storage and unstructured data (documents) storage. Structured data storage is mainly in view of the traditional database such as Oracle, DB2 or mysql and other relational database data. Unstructured data storage is mainly for all formats of office documents, text courseware lecture, video text, images, XML, HTML, all kinds of report forms, images and audio/video information, etc. , which currently shows an explosive growth.
(2) Virtualization mainframe cluster (computing resource pool)
This part mainly adopts virtualization technique on an X86 server with all kinds of vertualed application servers, which are integraed into a large computing resource pool through load balancing technology, so as to realize the dynamic equilibrium.
(3)Function server area
This section contains database professional server, security server, backup system, long-distance disaster recover system and management node