Education and Scentific Research

Sugon is committed to building a world-leading open research and innovation service platform for many fields such as physics, chemistry, materials, biology, astronomy, meteorology, etc., focusing on the convergence, integration and optimization of distributed data, models and services in various fields.
For research group in colleges and universities or research institutions or individual high-performance computing users, if there is no professional equipment room and no specific distribution and air conditioning systems, traditional rack-mounted or blade servers are inconvenient, which will inevitably bring a lot of upfront investment to build or rent professional room and equipment room equipment, which can greatly increase the costs of high performance computing. In addition, if the calculation scale is small, maintenance costs of a traditional cluster is not in direct ratio to its benefits. In short, procurement and maintenance of traditional cluster are hard to be undertaken by smaller and high-performance computing users, and the traditional cluster system is not the best choice.
Sugon PHPC personal high performance computer is a high-performance computing product to solve this problem, which does not require professional room facilities, need not professional distribution and air conditioning, and can be used in office or lab in connection with electricity walls with characteristics of low noise, low power consumption, etc.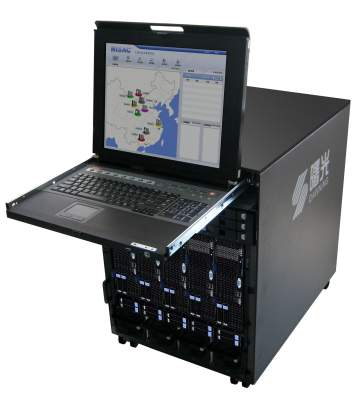 Sugon PHPC is specially designed for office applications, which has been superior to traditional rack-mounted servers, blade servers and fleet servers in many ways; it is a new generation of high performance computer table type with high stability, high performance, and low environment requirements. It adopts overall optimization design to effectively reduce the power consumption of the system, and combined with the humanized design, strong ability to spread of system, and excellent cost performance and computational density, it can cover the demands of a wider range of personal and group users' for high performance computing; compared with the traditional high performance computer, Sugon PHPC can provide more competitive overall solutions, which is an ideal platform to better meet the demand of small and medium-sized high-performance computing.
Sugon PHPC can be regarded as a microform of high performance cluster, which can provide strong computing ability and function expansion; in addition, PHPC's unique feature enables it to become the only choice of personal, work group and high performance computing users.