Tax and Industry

With the comprehensive reform and upgrading of China's tax system, Shuguang cloud computing, big data, artificial intelligence and other technologies and tax systems are widely docked and deeply integrated, actively promoting tax digitalization and intelligent transformation and upgrading, and achieving smart tax business innovation and service innovation. Dawning participated in the construction of the core system of the Golden Tax Project and signed a total of several hundred million yuan.
Solution for online taxing service platform of tax system
The online tax declaration system means that the tax payers use web-browser or client server to fill the tax declaration information, which will deliver the tax declaration information to the tax authorities to finish the declaration of taxes through network, is one of the core applications of the tax system's taxing service platform.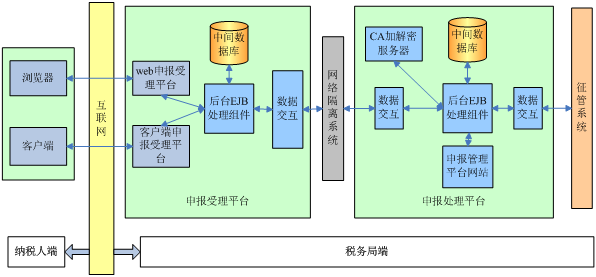 (1)Tax payers make use of internet to conduct declaration through theusage of web-browser or client server to fill the electric declaration information.
(2)The web server responsible for the processing of declaration receives the electric declaration information service.
(3)According to the actual situation and requirements of tax authorities, the system can use synchronous processing model and asynchronous processing model to process business.
(4)The declaration processing platforms conduct data exchange of the tax payer's declaration data and personal information and declaration feedback information among each other.
(5)The declaration processing platforms exchange information with the collection and management system. The information include the tax payer's basic information that the declaration processing platform received from the collection and management system and the result information that provided by the collection and management system after it wrote the declaration information into the collection and management system.
(6)According to the business requirements of different tax authorities, the declaration processing platforms can exchange information with banks, providing real-time or fixed-time tax payment and collection function.