The large high-performance computing center features high centralization and high computing density. The refrigeration and heat dissipation problem of the system is a problem that should be focused on. The precise air-conditioner refrigeration scheme for a common computer room provides lower refrigeration capability and generally only supports about 10W refrigeration of single cabinet, so the common scheme is not suitable for high-density and high-performance computing center. In addition, the refrigeration efficiency of the traditiona refrigeration scheme is lower and PUE value is higher, the refrigeration system will consume power for the environmetnal refrigeration of the computer room. It is not special for device refrigeration, so it consumes much power.
Construction, as well as stable and high-efficient operation of a high-performance computing center requires a reliabile infraastructure as the support, to guarantee efficient, stable and reliable operation of the electronic equipments in the high-performance compting center computer room.
The Sugon CloudBase C1000/C3000 cabinet drainage computer room infrastrucutre system is a whole solution of the Sugon Corporation, which solves the heat dissipation problem of the high-density blade server by sealing the air duct and using the Freon/condensation water as the refrigerating medium based on the cabine row. The whole solution consists of cabinet, distribution, refrigeration and monitoring system. The C1000/C3000 cabinet row-level computer room instructure system solves the heat dissipation, distribution, cable management and monitoring problem for installed high-density server equipments, and features the high refrigeration capability, high availability and energy saving.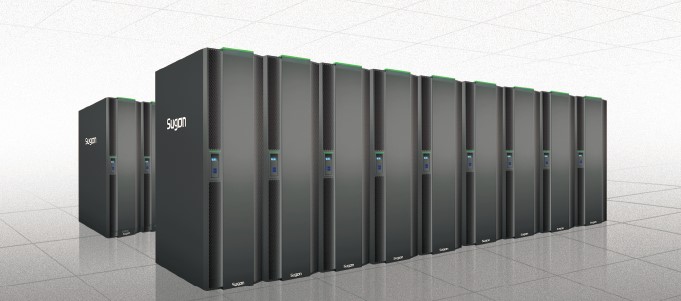 The Sugon C1000/C3000 system uses the internal circuation refrigeration in the cabinet row, it is special for the cooling of the IT equipment and can effectively soloution high-density refrigeration bottlenck, reduce the PUE and energy consumption of the computer room and reduce dependence on the computer room environment. In addition, C1000 and C3000 systems include also the intelligent distribution management modules and diversified monitoring managmeent modues, and can be integrated to the Sugon management software platform and realize the intelligent integrated control management of the computer room infrastructure and IT system.