Education and Scentific Research

Sugon is committed to building a world-leading open research and innovation service platform for many fields such as physics, chemistry, materials, biology, astronomy, meteorology, etc., focusing on the convergence, integration and optimization of distributed data, models and services in various fields.
Solutions to Computer Training Bases in Colleges and Universities
Purposes for base construction:
Construction of this training base mainly aims to the cultivation of application oriented students with high quality technology, so that it can become an important place and carrier for implementing practical teaching activities for higher vocational education. According to teaching requirements, professional practice teaching is relatively stable, and the necessary infrastructure is advanced, while education benefits, economic benefits and social benefits have demonstration, and management mode and operation way shows normalization; synchronous combination between theoretical teaching and technique development has tightness.
Scheme introduction:
This scheme plans to divide the 48 students who attend training into eight groups with 6 in each group; each student uses a PC, and each group access to the matched training server through remote access. Training server is divided into three categories: (8) Linux servers, (8) Windows servers and (4) virtualization servers. A backup server is configured with for backup of commonly used standard system configuration, training curriculum, courseware as well as various video in the process of training as reference for students who participate in the training. In addition, a management server is configured with to facilitate all kinds of hardware devices in the whole server training rooms. Finally, the system is under the protection of the network firewall, and students from other schools or other rooms can only access all kinds of function servers in the room after approval of network firewall, which can guarantee information security of the entire server training rooms.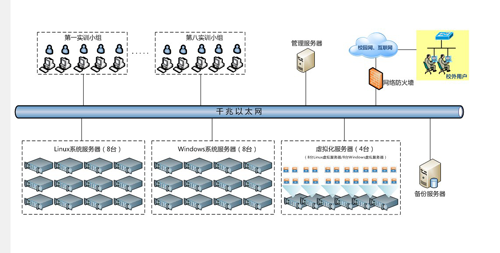 Topological graph for construction of training base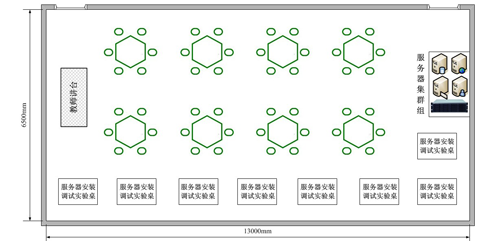 Layout of laboratory