The Sugon computer room infrastructure monitoring and management system is established based on traditional computer room monitoring function. According to the company's years of experience in the field of operation and maintenance of the data center, with combination of hardware and software, the intelligent computer room infrastructure monitoring and management system is developed with main features integration, modularization and intelligence.
1、Integration
The monitoring of existing data center infrastructure equipment mainly consists of power equipment monitoring, monitoring of the air-conditioning, monitoring temperature and humidity, leaking system monitoring, image video surveillance, intelligent access control, fire prevention system monitoring, lightning protection system monitoring and network equipment monitoring.
At present, data center computer room monitoring is concentrated in the power system, power distribution system, access control system, temperature and humidity, or that attaches more attention to the monitoring capabilities of the device itself, which does not really achieve the integrated management of IT equipment and refrigeration, distribution, and access control lighting. The Sugon has taken full advantages in the server field to achieve full integration of IT equipment and cooling, power distribution, energy consumption calculation, realize monitoring integrated management "monitoring = surveillance + control".
The Sugon computer room infrastructure monitoring and management system conducts the monitoring of cabinet to microenvironment, power distribution, cooling, access control and fire prevention, achieves integrated management, collaborative linkage of IT equipment and infrastructure. The unified scheduling management is conducted by monitoring and management node. Several key features of which are listed below:
CloudBase cabinets in cold aisle air supply have achieved that the door of cabinet will automatically open at high temperature and at the same time sends a high temperature alarm. If the temperature continues to rise, management node will automatically send the high temperature shutdown command to automatically shut down the server equipment in protection function.
With the help of real-time PUE monitoring, the users are well aware of the distribution of the energy consumption of data center, and take effective measures to improve the operation and maintenance.
Refrigeration module based on the micro-environment monitoring values will automatically adjust cooling capacity output in order to achieve the best energy-saving state. The IT equipment power consumption and airflow CFD model of data computer room are important issues and are achieved in national security project-the air conditioning energy saving and arrangement.
Centralized management of multiple computer rooms can achieve the centralized monitoring to many computer rooms.
2、Modularization
The Sugon computer room infrastructure monitoring and management system is an integration management system combining software and hardware, which mainly includes two major parts, IMMS and IHMM, and adapts to the modularization characteristics of the fourth-generation data center.
Hardware acquisition module adopts a hierarchical networking mode, each row of cabinets is composed by a point-to-point shape network inside, and a row of cabinets with the management node consistute an up level shape network. Centralized monitoring star network is made by multi-machine computer room and IMMS management software, modular composition. IMMS management system software uses B/S architecture, and users at any time and any where can access through a browser. Combination of "building blocks" of freedom is used to adapt to the characteristics of the modular computer room.
Each server cabnit is equipped with a cabinet-level monitoring module RMM (Rack monitor module). The various sensor interface can connect to door-open facility, electromagnetic locks, temperature probe, humidity probe, smoke detector, water leakage probe, and RS485 communication interface, which can be freely adjusted based on the actual number of cabinets. Compared with other vendors' monitoring, the Sugon cabinet-level monitoring content is more abundant and three-dimensional. Generally, the channel of each row of cabinets in the computer room monitoring is installed one or two temperature and humidity detection probe, only a rough the perception of local temperature in the computer room. However, the external sensor modules of RMM cabinet-level monitoring can conduct accurate perception of the micro-environment parameters change of various parts in the cabinet.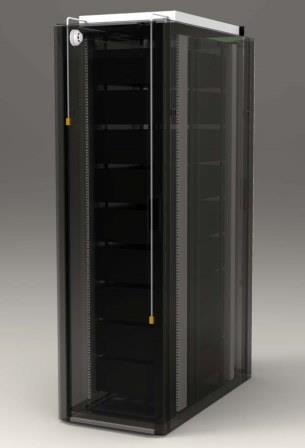 Cabinet-Level Modular Monitoring
Each row of cabinets will be distinguished suject to RMM module ID settings. Meanwhile, each row of server cabinet is equipped with a platoon level monitoring module ZMM (Zone monitor module), which is used to collect microenvironment data of each row of server cabinets and upload the data to the IMMS software through the switch.
3、Intelligence
Intelligent control of the Sugon infrastructure monitoring is established on basis of integrated, modular management platformof the IMMS management software and intelligent hardware module (IHMM), adopts linkage function of system itself (such as sending the high temperature alarm information at the same time starting self-control to turn on the server cabinet door, sending the shutdown command if the temperature continued to rise automatically; remote door control, the administrator can remotely open the door without being there; refrigeration module automatically polling function; real-time PUE monitoring ect.), and plus user-expansion device (such as sound and light alarm equipments, etc.) to achieve monitoring control integration of the intelligent computer room of the fourth-generation data center.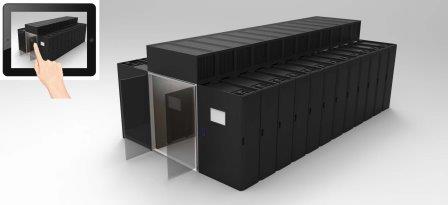 Figure Intelligent Control Touch Screen