Data center power distribution system is mainly composed of high-voltage power distribution systems, diesel generator back-up systems, automatic transfer switch system, input low voltage distribution systems and UPS systems. Room power distribution plays a crucial part in the entire room, but easily be neglected. Great improvement in the post-load electrical safety management is implemented by traditional UPS output distribution program, which lacks support for operations management, mainly reflected in:
1)For the traditional power distribution, each site requires different installation designs. The distribution system's reliability, security level depends on the staff and installation personnel.
2)Distribution system is very difficult to achieve uninterrupted expansion and maintenance.
3)The effective distribution of the load is unable to guarantee, and unreasonable three-phase unbalance and capacity set can easily occur.
4)For the convenience of room line layout and management, generally the last level distribution cabinet is placed in the IT equipment room. The shortcoming of traditional distribution program not paying attention to the exterior design is exposed completely.
5)The monitoring content to the power supply is little, which basically monitors the ordinary electrical parameters of main road, such as current and voltage. However, with regard to key parameters (such as active power, reactive power, power measurement), the monitoring is not sufficient, lack of monitoring electrical parameters of main road, resulting in entire ignorance of the cooling and power distribution. If power equipment and environment monitoring will be conducted, it needs a second transformation to increase the variety of modules in the distribution cabinet, so cumbersome and ineffective.
The requirements of the new generation of data center on the reliability and manageability of power supply system are getting higher and higher. Moreover, the users need a more reliable and flexible power distribution, more refined management, and more accurate electricity consumption of power supply system of information equipment. The Sugon CloudBASE distribution system designs and adopts module PDM to realize decentralized control to power distribution. Power distribution around cabinets is arranged by module PDM assigned to each cabinet units PDUs to improve system availability and flexibility for easy control and management.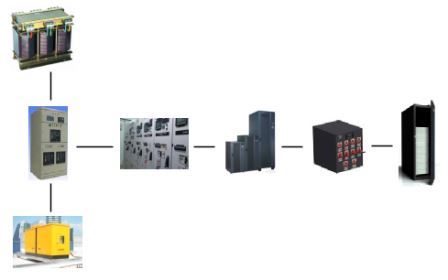 Figure Data Center Power Distribution System Structure
CloudBASE array distribution cabinet PDM has the traditional functions of power distribution cabinet, such as distribution, lightning protection, adopts standard cabinet integration design, maintains the coordination to overall shape of room equipment, and uses industrial connector plug and modular structure design. In addition, more powerful monitoring and management capabilities such as active power input, reactive power, power factor, voltage, current, and electric degrees and outputs current monitoring are available, which will make data center staff learn cabinet load situation at any time, deploy flexible and modular expansion, collect information from system data and conduct real-time monitoring.
CloudBASE cabinet power distribution unit PDU (power distribution unit) is designed for servers and other equipments in the cabinet power distribution only. Compared to the ordinary outlet, PDU has advantages of good quality and safety, strong load capacity, various choice, full-featured, easy to use and intelligent management. The total capacity of a single PDU is three-phase 32A, the maximum load is a 20KW, three-phase power distribution design effectively ensures three-phase load balance inside the cabinet.