Small and Medium-Sized data center assumes the core business of enterprise and institution, group and subsidiary in high importance without allowing business interruption. Generally, it is established in conformity with the GB Class B standard to ensure the data center can work properly even in case of abnormal breakdown or normal maintenance, and the core business is not affected.
With construction of the new generation of data center, facilities like networks, servers, storage are centralized in further, which refer to the new requirements for basic environment of data center. For existing data centers, because of huge power consumption, lack of space, refrigeration below standard, system integration, they are incapable of coping with the challenges of power supply, cooling, expansion, management and unable to effectively support the efficient operation of the information system. Therefore, with regard to the requirements for new or modified equipment room, the users expect a high computational intensity, easy deployment, good management and green energy-saving features.
Sugon CloudBASE cabinet row integrated solutions are to replace traditional room environment with cabinet microenvironment, set cabinet row as the basic unit, integrate core IT equipment, power supply and distribution system, monitoring system, environmental conditioning system, cable management systems, and provide a complete infrastructure solutions, which splendidly adapt to the trends of enterprise and industry development.
Sugon CloudBASE integrated solutions conduct and integrate six subsystems, power supply, refrigeration, cabinets, wiring, monitoring and lightning. Mainly for small and medium-sized data centers, especially small and medium-sized high-performance computing data centers, high-density data centers and cloud computing data center, they will provide facilities, installation and turnkey solutions for decoration work of power supply, cooling, and monitoring subsystems.
1、Cabinet Subsystem
The cabinet adopts the closed cabinet of Sugon cabinet row, breaks the traditional mode of mesh door cabinet, takes unique main framework coordinated with closed channel of cabinet doors; the cabinet comes with a return air channel and combines effectively to the air conditioning in lines to achieve high density and efficient refrigeration.
The cabinet frame is made of cold-rolled steel with surface spray treatment, high strength, light weight and solid structure, and compatible with all standard 19" equipments.
The cabinet is compatible with the way of upper and lower wiring, which greatly facilitate field wiring arrangement. It is also equipped with accessories like a horizontal cable management unit and a self-adhesive banding, eliminating cable clutter. Moreover, standard integrated power/data trunking are equipped on the top, more convenient in the alignment.
2、Air Conditioning Subsystem
The Sugon CloudBASE air conditioning conducts refrigeration for the IT equipment in cabinet, turning the cooling environment "cold storage" into the "refrigerator" way of cooling equipment. It adopts independent and horizontal air refrigeration cabinet with the channel closed design of cabinet row doors, cooling in high efficiency, low noise system, hot and cold channel separation and nearest precision air, provides highest cooling capacity of 10KW 30KW for the single cabinet, meanwhile, possesses integrated temperature, humidity, smoke, water leakage detection system.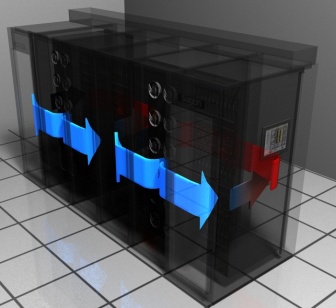 Figure Horizontal Airflow Organization of Closed System
The Sugon CloudBASE air conditioning can be divided into two kinds, C1000 Freon and C3000 frozen water for users' different applications. The two refrigerant ways can cope with the natural cooling ways of fluorine pumps or dual-mode cooling machines. The compressor will be shut down partly or totally in winter to make indirect use of natural cooling source to refregaration.
3、Supply and Distribution Subsystem
Room power supply adopts the program of dual civil power automatically changing, UPS with N+X redundant operation and diesel generators as a backup power supply. The room internal distribution adopts PDM-PDU distribution with high manageability and scalability.
Due to the unique design of PDU structure, alignment and the security cabinet row-level head, PDM realizes the power centralized monitoring and control, which can monitor current, power, switch status parameter of each cabinet. Each PDU provides standard IEC320 C13 and IEC320 C19 socket. PDU and PDM are connected by industrial connectors, with high reliability, supporting hot swapping. You can visually see the PDU run state with power indicator. Cabinet power distribution unit PDU is plug-and-play with both vertical and horizontal.
4、Monitoring Subsystem
The diversity of equipment standards, various vendors, messy equipment deployment, are one of the important reasons for the failure of monitoring scheme. The Sugon CloudBASE integrated system can achieve real-time monitoring of temperature, fan status, access status, alarm information of up to four positions within the cabinet and display data curve, indoor unit fan speed status in color LCD in the screen of the rear of air-conditioning equipment between lines.
The usage of advantageous facilities like cabinet monitoring unit, intelligent devices, sensors optimizes the process of engineering configuration, saves users' investment , so as to achieve rapid deployment.
The integrated solutions of Sugon CloudBASE cabinet row abandons the traditional idea of room construction, sets cabinet row as the basic unit module of the room. The users only need to place the server in the cabinet. When the expansion is demanded, you can just directly increase the cabinet row system. It help users to realize their development idea "investing while growing" on the basis of improving system reliability and availability, greatly saving precious room space, facilitating the expansion and saving construction and operation costs. Therefore, it is becoming the preferred mode of construction of small and medium-sized data center computer room.