Solution of 12315 appeal (complaining) reporting system for administrative bureau for industry and commerce
1.1.1 System introduction
Based on law of protection of consumer rights and interests, with reference to administrative bureau's Regulation of 12315 the work of Consumer Complaints and Reporting Center, this system is the administrative department for industry and commerce's operation platform for public service and public's mediation to solve consumer dissension.
The system not only offers high-efficient service for the public, but also expands the information coverage for the administrative department for industry and commerce's control over the economy market, which includes the external information network and internal business processing platform. The overall structure is as follows: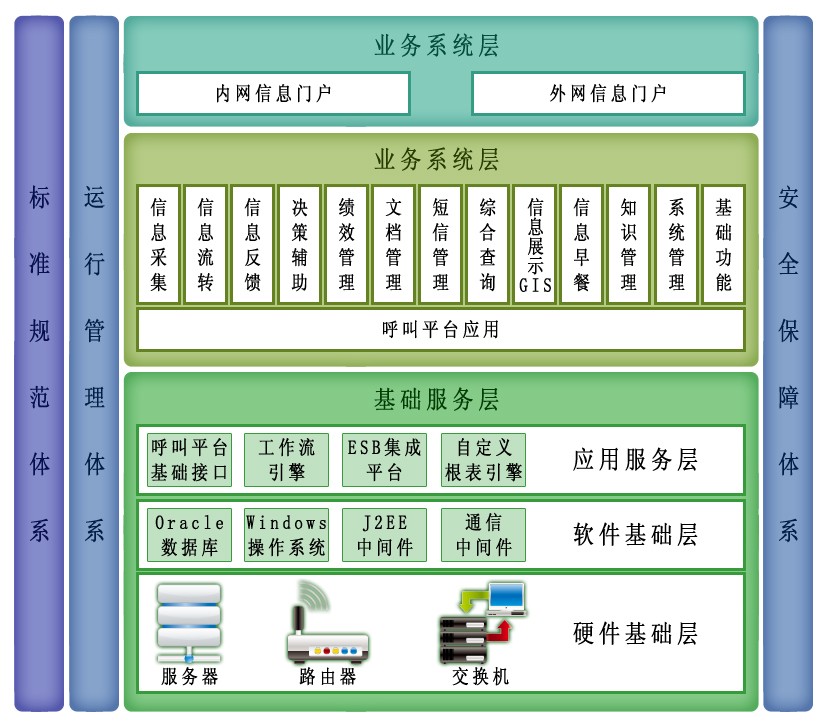 The internal business processing platform consists of information collection, information transferation, information feedback, decision auxiliary, performance management, document management, message management, system management, comprehensive inquiry, information display (GIS), knowledge management, and other business sub-systems, realizing the administrative department for information collection and processing of industry and commerce, which includes consult, appeal (complain), report and recommendation.
The external information network includes green channel and online appeal (complaining) reporting. The online appeal (complaining) reporting helps public fill in the appeal form online to protect their own rights and report illegal business behaviour of the market main body. The green channel is a method for companies dealing with consumption problems and consumption disputes. The officials of the administrative bureau for industry and commerce can hand over the consume issues to the green channel enterprises, who will provide a faster dealing with those issues, realizing the moniter and control over processing results in the meantime.
1.1.2 System features
- It solves the connetion problem with the registration system, promoting the business collaboration and information sharing.
- Centralized management of calling center, bring the districts and counties' department into the area of centralized management.
- Simplified operation system and with a higher recording efficiency.
- Standard interface, realizing seamless connection with other systems.
- Powerful statistics function, offering decision making support for leaders.
- Smart management for task prompt, which makes it more convenient for the users.
- Abundant knowledge-base offers significant intellectual help for users.
- The enterprise's quick solving channel raises office work's efficiency and lower the cost of office work.
- Based on J2EE platform, it uses the design philosophy of divided-level, which improves the transportability, expandability and easy maintainablity of system.
1.1.3 System structure